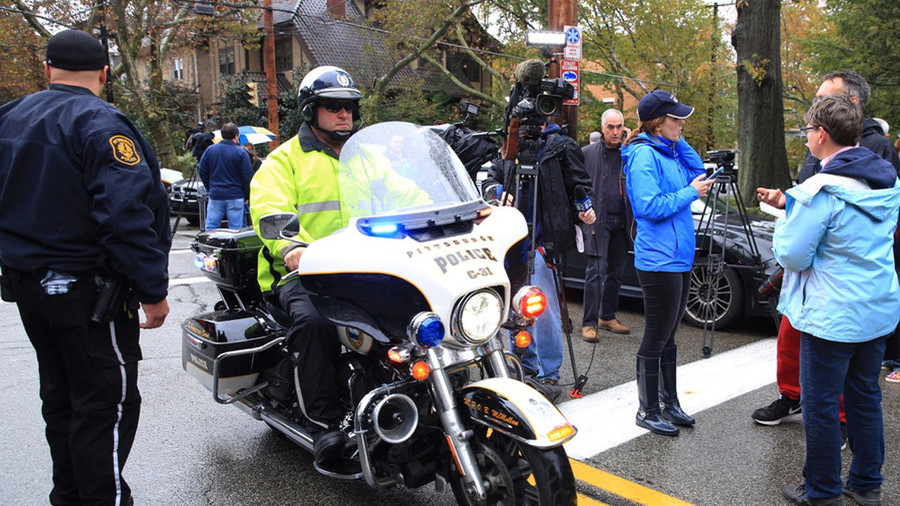 US President Donald Trump has responded to the Pittsburgh synagogue shooting by saying that something must be done about hate in America, and that armed guards at churches and synagogues are an option.
The US president said the shooting has little to do with gun laws, and that results could have been different if someone had been armed inside the place of worship.
"If they had some kind of a protection inside the temple maybe it could have been a much more different situation, they didn't," he told reporters while boarding Air Force One.
READ MORE: 'All these Jews need to die': Pittsburgh shooter used AR-15 & handguns in synagogue massacre
He said that when people do such actions, they should receive the death penalty.
"I think one thing we should do is we would stiffen up our laws with guns with the death penalty," he said. "When people do this they should get the death penalty."
The US president said he is considering canceling his Saturday rally in Illinois following the shooting, which he said "definitely looks like it's an anti-Semitic crime."
Trump's remarks came after he earlier tweeted that he had been watching the events in Pittsburgh unfold, and that the incident was "far more devastating than originally thought."
Watching the events unfolding in Pittsburgh, Pennsylvania. Law enforcement on the scene. People in Squirrel Hill area should remain sheltered. Looks like multiple fatalities. Beware of active shooter. God Bless All!

— Donald J. Trump (@realDonaldTrump) October 27, 2018
"What happened in Pittsburgh today was not just criminal, it was evil. An attack on innocent Americans and an assault on our freedom of religion," US Vice President Mike Pence told an audience in Las Vegas. "There is no place in America for violence or anti-Semitism," he added.
Events in Pittsburgh are far more devastating than originally thought. Spoke with Mayor and Governor to inform them that the Federal Government has been, and will be, with them all the way. I will speak to the media shortly and make further statement at Future Farmers of America.

— Donald J. Trump (@realDonaldTrump) October 27, 2018
Think your friends would be interested? Share this story!