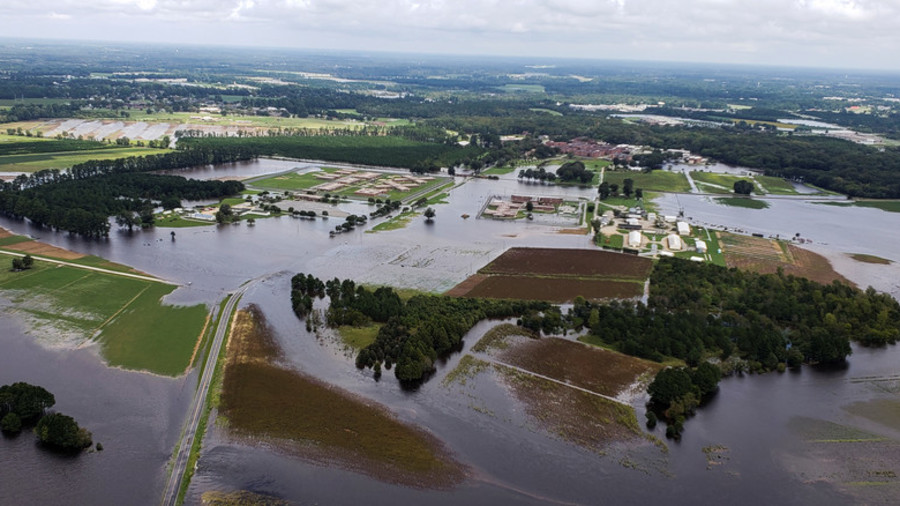 Millions of birds and thousands of pigs have died as a result of Hurricane Florence, according to North Carolina agriculture officials. That number may rise due to additional flooding.
An estimated 3.4 million chickens and turkeys, as well as 5,500 pigs, have been lost as a result of the flooding, according to a preliminary report by the North Carolina Department of Agriculture. There were no estimates of crop losses.
North Carolina is one of the top states in the nation producing pork and poultry. The storm dumped more than 8 trillion gallons of water on the state over a five-day period.
"The storm's impact was felt deeply across a very large region," the North Carolina Pork Council said on Tuesday. The reported losses were "the result of all aspects of the storm, including wind damage and flooding. We are saddened by this outcome," the council added.
Though some areas are still flooding, the council does not expect the losses to "increase significantly." There are approximately 8.9 million pigs across 2,100 hog farms in North Carolina.
More poultry deaths could soon occur at farms near Lumberton,as flood waters have hampered the delivery of feed, poultry producer Sanderson Farms told AP.
Meanwhile, many pets and stray cats and dogs have been rescued from the flood waters, with photos emerging of many animals riding in kayaks or sitting in shelters awaiting care and, ultimately, adoption.
One particular animal lover by the name of Tony Alsup made headlines after he bought a school bus to rescue pets that would otherwise be left behind, managing to evacuate a total of 53 dogs and 11 cats from animal shelters located in the path of Hurricane Florence.
READ MORE: Flood waters leave workers stranded at North Carolina nuclear plant
One shelter praised him on their Facebook page. "It's all true – Tony swooped in at 4am Wednesday morning to pick up our 'leftovers' – the dogs with blocky heads, the ones with heartworm. The ones no one else will ever take. And he got them to safety. Not the most conventional evacuation, but surely the one with the most heart," wrote the Saint Frances Animal Shelter.
Like this story? Share it with a friend!