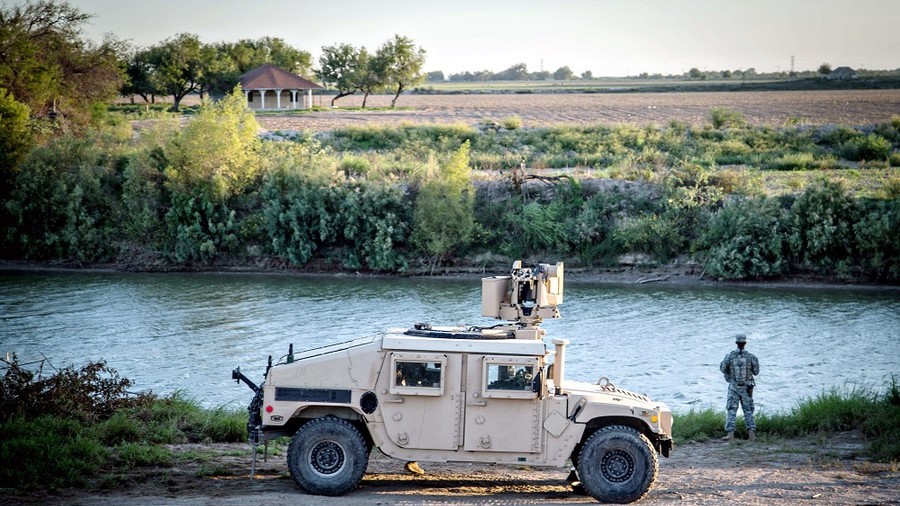 A New York Times editorial cartoon mocking US President Donald Trump's orders to send troops to the Mexican border instead of fighting wars in the Middle East has drawn ire from Americans calling it elitist and out of touch.
The cartoon, published Friday, shows a line of US troops in desert camouflage uniforms being ordered by Trump to the border with Mexico. One of the soldiers leans over and whispers to another, "I enrolled to fight in the Middle East… not in the midterms."
While reflecting the prevalent narrative in the media and amid Trump's Democrat critics that his crackdown on the US-bound migrant "caravans" from Central America is all about the impending midterm election, the cartoon was almost universally panned on social media as tone-deaf and ignorant, starting with the use of "enrolled" instead of the correct "enlisted."
One Twitter user called it an example of the "cluelessness of the liberal elite" who don't understand military service.
This comic is the distillation – by accident – of the cluelessness of the liberal elite. The fact that they are so far removed from having to even consider military service becomes fairly clear when they use the term "enroll". You *enlist*, and its not a semantic difference.

— Chris Bozeman (@ChrisBBozeman) November 2, 2018
Many others have pointed out that defending their own border is the obvious mission for the US military, while going abroad to invade other countries is, well, not.
Imagine being the New York Times. Imagine being this out of touch with what Americans really want. I can't name a single guy who served who actually reads your rag.
Dare I say, our troops actually defending America may be the most noble mission they've had in recent memory.

— Neapolis (@subzerotakes) November 2, 2018
So what you saying is that it is better to invade other countries than protect your own border? Mkkkaaaay…

— Michał (@Misza_Uchermann) November 2, 2018
"I really wanna go to Iraq instead of protecting the border at home"

-No servicemember

— Grand Comics ぐらんど 🇮🇱 (@GrandComicsGC) November 2, 2018
I "enrolled" to serve and protect my nation, not for some forsaken little country on the far side of the planet.

Setting troops in a defensive line along the border seems to meet that criteria to a T.

— 1/512 Klingon Christopher Valence (@ChrisValence) November 2, 2018
>I signed up to fight on behalf of someone else's country for poorly defined indirect domestic benefit.
>Not to directly fight a foreign invading force on my own country's border.

Pol. cartoonists are so far away from patriotism that they can't even comprehend the core concept.

— MarcusAurelius (@MarcusInMedina) November 2, 2018
Another Twitter user went so far as to replace the speech bubbles in the cartoon with something he thought more authentic and appropriate, complete with a hashtag referencing the Times' recent controversial hire.
This comes at a time when even the commander of US forces in Afghanistan has admitted the 17-year war against the Taliban is unwinnable. Currently there are US troops in some 160 countries around the world.
The cartoon was signed by Patrick Chappatte, a Lebanese-Swiss cartoonist who lives in Europe and draws for the International New York Times and a number of French and German publications.
Think your friends would be interested? Share this story!