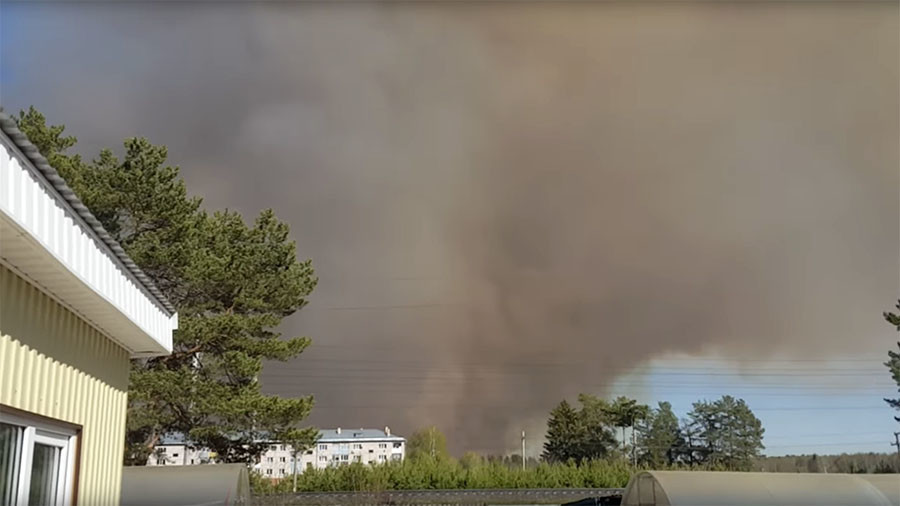 An evacuation of a garrison town was ordered and traffic put on hold after a wildfire caused shells to detonate at a former military range in Russia's Republic of Udmurtia.
Social media users posted photos and videos online of a huge cloud of thick white smoke coming from the abandoned military range. The incident happened near the village of Pugachevo around midday on Wednesday. The sounds of frequent explosions could also be heard in videos.
The Emergencies Ministry said the blaze at the site began after dried grass caught fire, causing "the solitary detonation of the remaining shells at the territory of the military unit."
The fire area at the former range reached the size of ten hectares and continues to expand, it said. Two fire trains, a Be-200 amphibious plane, a Mi-8 helicopter and two dozen fire trucks were involved in putting the blaze out, the ministry added.
There were no injuries or casualties as the territory of the base is sealed, with no people inside, the rescuers assured. The shells at the range contain no dangerous chemical agents, they added.
"The situation is under control," Aleksandr Brechyalov, the head of the Republic of Udmurtia, said. The evacuation at a garrison town near the base began and traffic at the nearby federal highway has been put on hold as a precaution, the official added.
В районе бывшей воинской части в поселке Пугачево в Удмуртии прогремело несколько взрывов, сообщают в соцсетях. «Опять Пугачево, канонада, дрожат окна, жестко гремит», — пишут очевидцы. В 2011 году на этом полигоне уже горел склад с боеприпасами pic.twitter.com/Fm6RxwteOH

— НТВ (@ntvru) 16 мая 2018 г.
Brechyalov denied media reports that an evacuation of Pugachevo, located several kilometers away from the site, was also underway. However, he said that some people were still leaving their homes in the village on their own decision.
In June 2011, Pugachevo was rocked by a series of massive explosions at a local military arsenal. One soldier was killed and over 100 people required medical attention as result of the incident. The blasts damaged 300 buildings in Pugachevo, and other nearby villages, and led to the evacuation of more than 28,000 people.
READ MORE: Around 30,000 evacuated as military depot catches fire
The investigators said the tragedy was a result of negligence by the troops in handling the ammunition. The base was closed down after that, but in May 2015 the burning grass also caused explosions of shells at the abandoned site.
Think your friends would be interested? Share this story!