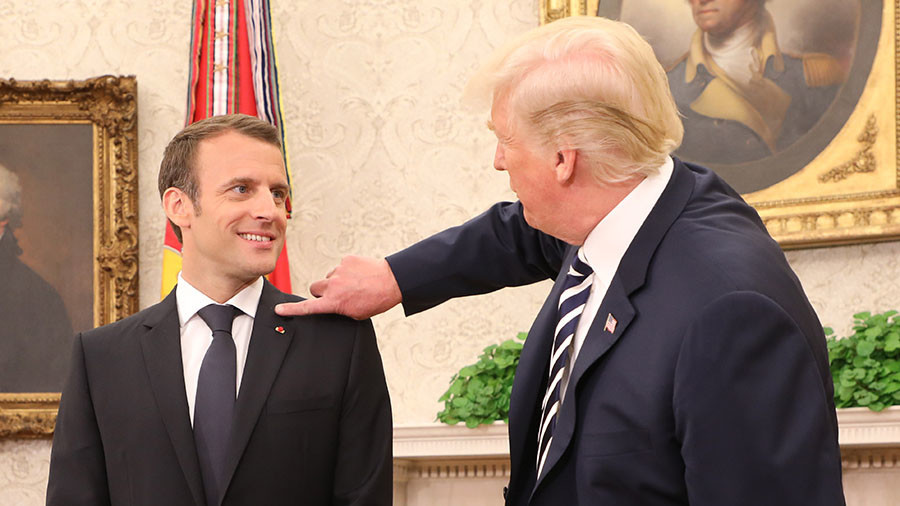 As US President Donald Trump and his French counterpart Emmanuel Macron posed for photographs in the Oval Office Tuesday, Trump took the opportunity to sweep a fleck of dandruff off Macron's suit in front of the world's press.
"We do have a very special relationship," said Trump. "In fact I'll get that little piece of dandruff off you."
After sweeping the fleck off Macron's suit, Trump declared: "We have to make him perfect. He is perfect. It's great to be with you and you're a special friend." Macron smiled through the awkward encounter and appeared unbothered by it.
A White House press pool report said that the president brushed "lint" off the French leader's suit coat, but Twitter users called it a "diplomatic power move" and an "international embarrassment."
Trump just announced to the world that he's such great pals with the French President that he could reach over & brush a bit of dandruff off his coat for him if he wanted to, and then proceeded to do just that. Oy.

Trump is an international embarrassment.@realDonaldTrump

— Ron Asher (@rmasher2) 24 апреля 2018 г.
Trump talked about what a friend he is to Macron as he announces to the press he is brushing dandruff off Macron's jacket.

Embarassing doesn't even cover it.

— Denizcan James (@MrFilmkritik) 24 апреля 2018 г.
Macron is in Washington this week for the first official state visit of Trump's presidency. The visit will give the two leaders a chance to strengthen their own and their countries' bonds, as well as discuss issues such as the Iran deal and global trade.