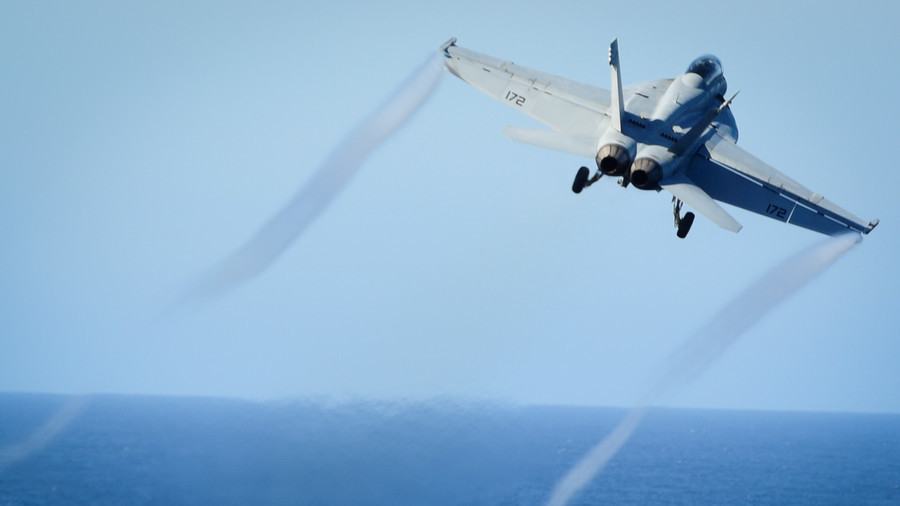 An F-18 fighter jet has crashed near Key West, Florida, the US Navy says. The crew successfully ejected from the aircraft, but their condition remains unclear.
The crash took place during a training mission on Wednesday afternoon, US Navy Commander Mike Kafka told media. It is unclear if it happened when the jet was flying over land or water. Photos on social media show a rescue helicopter hovering over the supposed site of the crash off Key West.
A witness told Local 10 News that the jet caught fire before going down roughly a mile from the runway.
Two people were on board the aircraft and both managed to parachute, Commander Dave Hecht, a spokesman for Naval Air Station Key West, told the station.
"I can confirm we have an F/A-18 down," Hecht said, as cited by ABC news. "Search and rescue efforts are ongoing."
It is unclear at the moment if the two crew members survived the crash and whether there are injuries.
The pilot and the second crew member, the weapons system operator, were transferred to the hospital but their condition is unknown, WAVY-TV, an NBC-affiliate in Virginian reported, citing officials. The servicemen are reportedly members of Strike Fighter Squadron 213 (VFA-213) Blacklions, an aviation unit based at Naval Air Station Oceana in Virginia Beach.
MORE DETAILS TO FOLLOW