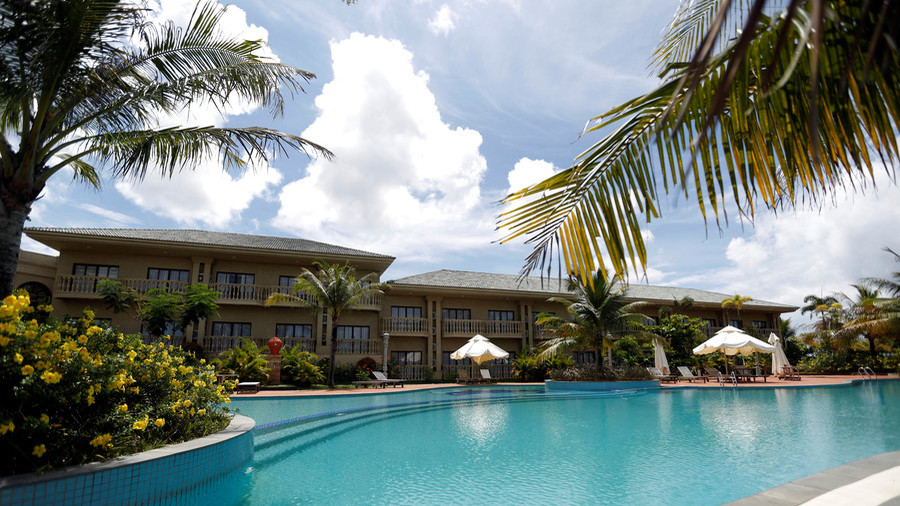 One man's relaxing afternoon at his building's pool spiralled into a tense standoff as he was told to leave in what appears to a racially profiled incident.
Shayne Holland was sitting by the pool at the River Crossing at Keystone apartment complex when an off-duty Indianapolis Metropolitan Police Department officer who was working as a security guard asked if he lived there.
Holland began filming the exchange after he showed the woman his key but told her he didn't want to give his full address, and she had asked him to leave.
The property manager, Candice Clingerman, comes outside and after a few minutes of back and forth, tells Holland there is a sign that says she can "ask anybody to leave at any time."
I actually live here, so I'm assuming they told the police that it's not too many black people that do so if you see one make sure you get their address. RiverCrossing Apartments. pic.twitter.com/IgOx3DByUi

— Quick (@HollywoodShayne) July 6, 2018
Holland shared the video on Twitter under another video taken at the same pool with the same property manager. In it, she is telling a group of black people to leave the pool.
"So yesterday at River Crossing at Keystone at the crossing we were kicked out of the pool and our Bbq was shutdown for no apparent reason as this lady who said she was 'property manager' preceded to let every white person that was there stay and only kicked out all black ppl," the poster said.
The video shows the group questioning why they have to leave. It isn't clear how many are residents. At one stage, Clingerman says the property's residents can only bring two guests to the pool.
Wow!!! I used to live there, they've never had a 2 guest limit or never had that issue about being at the pool. I had my nieces bday party with 15+ guests there. They're tripping for real, like you said, $ 1,600/month is too much to be going through that. Smh

— Ivory w/ an E (@ivorye20) July 10, 2018
Holland also posted another video from a different day showing Clingerman and a man questioning another group of people. One of the women tells her the group of five were allowed to enter earlier and the person working had no issue with it, and that only one of them was a resident.
As a result of the videos going viral, Clingerman has been placed on leave. "Once we've finished our internal investigation, we'll decide if she continues to be an employee or if she's terminated," Alex Stokely, vice president of Barrett & Stokely told the IndyStar.
Like this story? Share it with a friend!