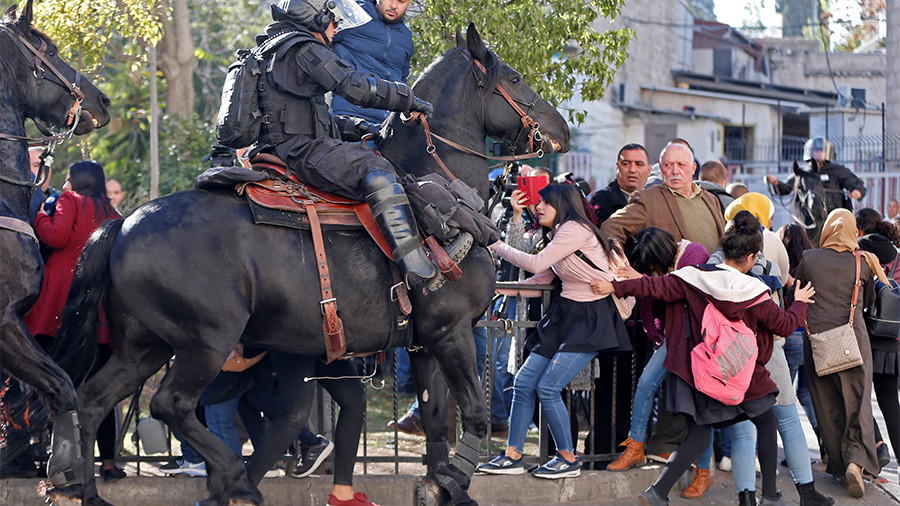 RT's crew has witnessed the violence in Jerusalem first-hand as Israeli police disperse the Palestinians protesting Donald Trump's decision to recognize the city as the capital of Israel. A wave of indignation across the Middle East has met the decision.
RT's Charlotte Dubenskij was reporting from Salah ad Din street, the main thoroughfare of East Jerusalem, when several stun grenades landed meters away from her, the loud bangs forcing her to take shelter behind a parked car.
In East Jerusalem, mounted police keep dispersing the Palestinians, who attempt to block traffic. The Israel Police Spokesperson for international media Mickey Rosenfeld said that two policemen were wounded in the clashes, and six protestors were arrested. "Police security measures continue in Jerusalem with emphasis in and around the area of the Old City," he said.
The RT crew has filmed at least one injured elderly man taken away by the medics. Palestinian news agency WAFA said that mounted police ran over several people in Jerusalem, including journalists. A RIA Novosti journalist on the scene reported that police were knocking phones from the hands of the reporters while dispersing the protesters.
Trash cans were set alight in the city and stun grenade explosions were heard frequently, he added. The police have been reportedly making arrests among Palestinians hiding in nearby malls. When the detainees were taken out into the street, the Palestinian protestors shouted obscenities and threw stones at the officers, RIA Novosti said.
The clashes, between Palestinian protestors angered by the US decision to recognize Jerusalem as the capital of Israel on one side and Israeli security forces on the other, have gone into their fourth day, with violence reported in East Jerusalem, the West Bank and Gaza on Saturday.