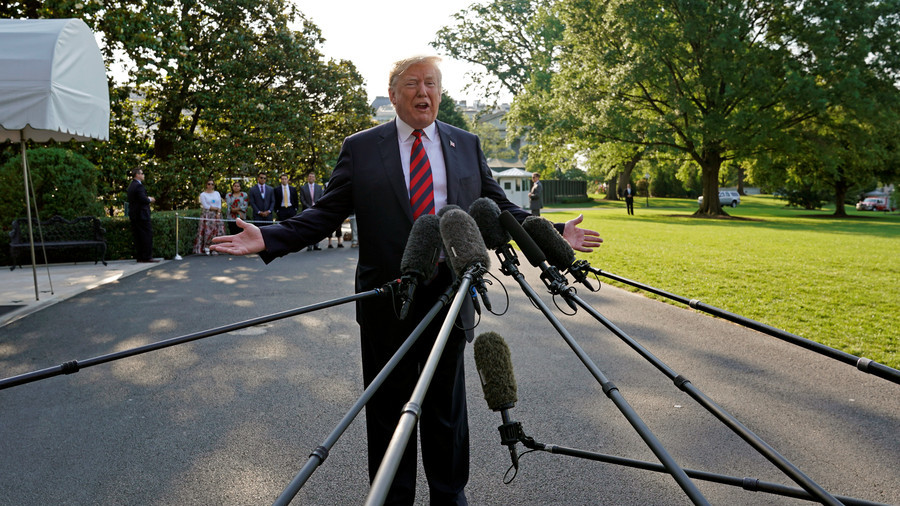 US President Donald Trump says Russia should be in the G7 meeting. Trump made the statement as he was preparing to fly to Canada for the summit.
The 44th G7 summit is due to open in La Malbaie, Quebec. The summit has received significant attention due to a major decline in relations between the leaders of the participating states. French President Emmanuel Macron struck a hostile tone against Trump, saying that the US could be kicked out of the G7.
UK Prime Minister Theresa May may not be on the list of world leaders scheduled for bilateral meetings with Trump on the sidelines of the summit, due to an apparent rift in the 'special relationship.'
After Quebec, Trump is headed to Singapore for a historic summit with North Korean leader Kim Jong-un.
On South Lawn before departing for Canada, Trump calls for Russia to be reinstated in G-8 (which has been the G-7 since the annexation of Crimea)

— Zeke Miller (@ZekeJMiller) June 8, 2018
The G7 is a forum of major industrialized nations – including the US, UK, France, Germany, Canada, Italy, and Japan – which meet annually to discuss international issues.
The EU also attends the meetings. Russia was part of the group for a number of years, during which it was called the G8. It became the G7 again in 2014, when Western nations accused Russia of meddling in the Ukrainian conflict and refused to visit the group's summit in Sochi.
READ MORE: No formal meeting between Trump & 'schoolmistress' May at G7 summit – reports
Interest in dialog with the Kremlin has been expressed by a number of lawmakers from G7 countries. Thus in April of this year, the head of the parliamentary faction of the Left Party in Germany, Sahra Wagenknecht, stated that Russia should be invited to return to the G7. Her appeal was supported by another opposition MP, Alexander Graf Lambsdorff, who said that "it is reasonable to strengthen and to better organize a dialog with Russia."
Think your friends would be interested? Share this story!