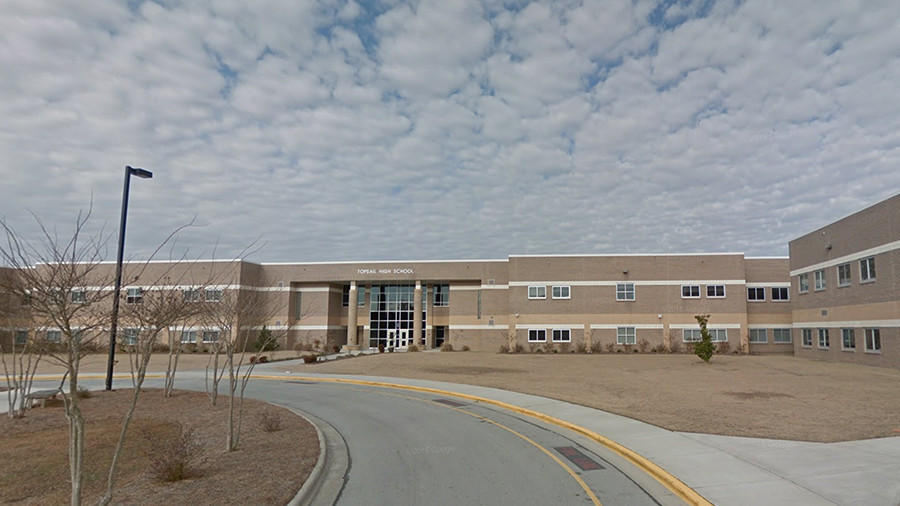 Police in North Carolina are responding to reports of an active shooter at Topsail High School, near Wilmington. Law enforcement sources say the scene is "still active," but the incident may be a false alarm.
Local law enforcement responded to a call from the school some time around 6.30am on Friday.
"It's extremely busy right now," an emergency dispatcher told Time magazine. "All of our units are trying to take this person into custody."
Unconfirmed reports from social media suggest that the shooter may be on the roof of the school. However, there may not even be a shooter at all. Commissioner George Brown with the Pender County Sheriff's office told WECT News that there is a piece of equipment, near the school's roof, that has been malfunctioning lately, and makes intermittent gunfire-like sounds.
"I was sure it was not gunfire over an hour ago," Commissioner David Williams, who is also the assistant coach for the varsity football team, told WECT. "I also coach football there. Lately, we've been hearing a piece of mechanical equipment go 'bam bam bam.' It made us the first time we heard it turn around."

Topsail Middle and Elementary schools, as well as Surf City Middle School, just over 8 miles from Topsail, have also reportedly been placed on lockdown.
At this time, all campuses on the eastern side of the county are on lockdown. Buses for Topsail Elementary, Topsail Middle, and Topsail High are being staged at Lowe's Foods across from Topsail Elementary.

— Pender Schools (@penderschools) November 9, 2018
Topsail High School was placed on lockdown in May, after a student brought a large hunting knife onto campus. Upon hearing of the lockdown, another student brought a semiautomatic rifle, and told deputies that he brought the gun to stop a potential shooter.
In February, another 14-year-old Topsail student was charged with threatening to shoot up the school on social media.
MORE TO FOLLOW