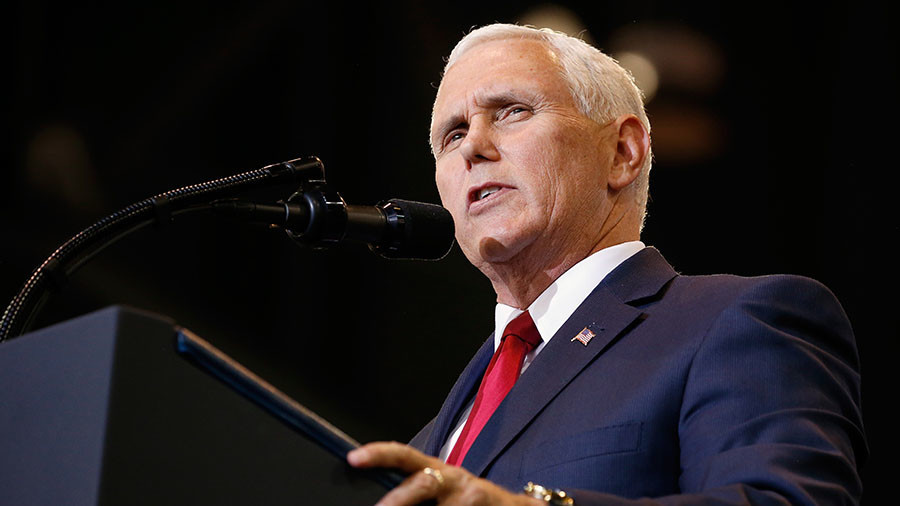 Washington is set to impose its "toughest and most aggressive" economic sanctions against Pyongyang, Vice President Mike Pence said as the Winter Olympics edge closer.
"The United States of America will soon unveil the toughest and most aggressive round of economic sanctions on North Korea ever – and we will continue to isolate North Korea until it abandons its nuclear and ballistic missile programs once and for all," Pence said Wednesday after meeting with Japan's Prime Minister Shinzo Abe.
Although Pence didn't reveal the details, the penalties are said to be put in force before the end of the Olympic Games, scheduled to take place from February 9 to 25 in South Korea.
Currently on a six-day visit to Japan and South Korea, the vice president will be heading the US delegation during the opening ceremony on Friday. North Korea will be present as well, with its delegation marching together with its southern neighbor under a 'Korean Unification Flag'.
The inter-Korean talks paved the way for Pyongyang's participation at the 2018 Games. Twenty-two athletes will represent the nation, competing in three sports and five disciplines. The 229-strong cheerleading team arrived in South Korea on Wednesday, and a North Korean orchestra is expected to follow later.
Amid the attempts of the two Koreas to ease tensions, the US, however, remains belligerent. Pence said he wants to ensure the Olympics don't distract from North Korea's pursuit of nuclear weapons.
"The United States is with you in this challenge," Pence assured Abe before the meeting, saying Washington "will continue to stand shoulder to shoulder with the people of Japan, the people of South Korea, and our allies and partners across the region until we achieve the global objective of denuclearization of the Korean Peninsula."
READ MORE: Charm offensive: 200+ N. Korean cheerleaders arrive at Olympics to be followed by Kim's sister