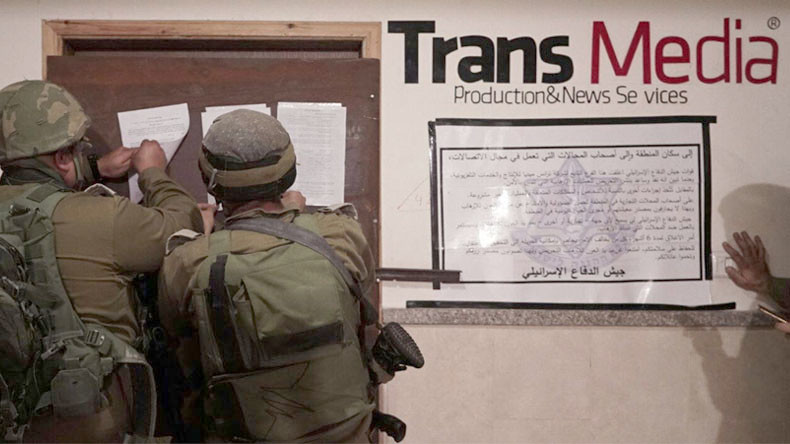 Israeli security forces have raided eight Palestinian outlets, closed two broadcasting stations and arrested two people in an overnight, large-scale counterterrorism operation across the West Bank, according to an Israel Defense Forces (IDF) statement.
The Palestinian media, which Israel suspects of distributing and broadcasting materials inciting terrorism, were raided in a joint operation of the IDF, the Israel Security Agency security (Shin Bet) and Civil Administration operating in the West Bank on Tuesday night.
READ MORE: 'An attempt to drown out Palestinian voices': RT's office building raided in Ramallah (VIDEO)
The security forces also raided eight Palestinian media organizations and closed the Ramasat and TransMedia broadcasting stations. The shutdown reportedly triggered clashes between the military and locals in Ramallah and Nablus, in which some Palestinians were injured, according to Palestinian news agency Wafa. In Ramallah a man was wounded by "an Israeli rubber-coated steel round," Wafa says.
قوات الاحتلال تغلق مقرات شركات ترانسميديا وبال ميديا ورامسات الإعلامية في الخليل ونابلس ورام الله وبيت لحم لمدة 6 شهور وتصادر معداتها فجراً. pic.twitter.com/QmZAWmdwJg

— شبكة قدس الإخبارية (@qudsn) October 18, 2017
Wafa agency reports that Amer Jabari, the director of the TransMedia office in Hebron, and his brother, cameraman Ismail Jabari, were arrested.
لحظة اعتقال قوات الاحتلال لمديري شركة ترانسميديا في الخليل إبراهيم الجعبري وعامر الجعبري فجر اليوم بعد إغلاق مقرات الشركة ومصادرة معداتها. pic.twitter.com/mZJkXFPJUc

— شبكة قدس الإخبارية (@qudsn) October 18, 2017
The Israeli forces also seized equipment and documents of companies providing services to Hamas – the Al-Aqsa and Al Quds TV channels – declared illegal by the IDF Central Command.
"The operation is part of the expanded counterrorism effort, in which the security forces operate against all elements of terrorism including incitement," the IDF said, adding that the security forces will continue their efforts against it.
Israel has previously raided TransMedia, which runs several offices across the country, including two offices in Jerusalem, the area disputed by Palestinians and Israelis, and an office in Hebron in the West bank. In March 2016 their office in Ramallah was ransacked during an operation against the Palestine Today TV station accused of incitement on behalf of "Islamic Jihad."