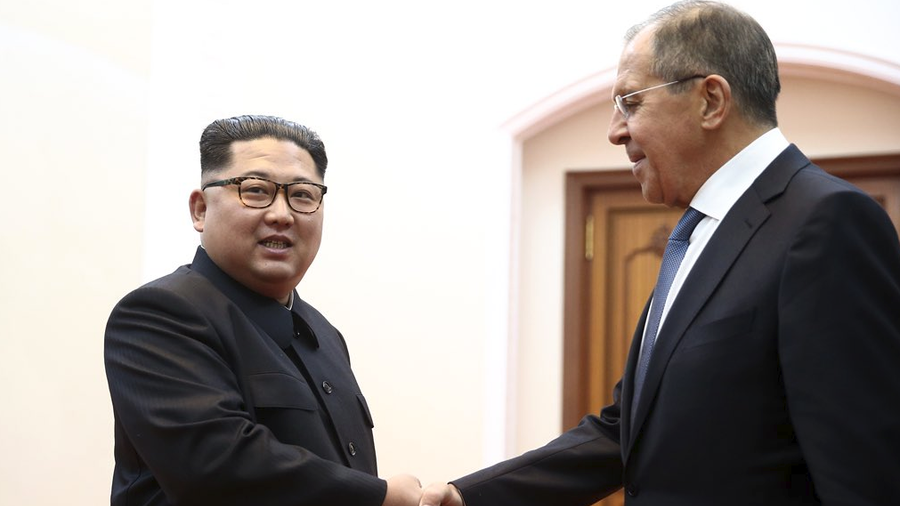 Russian Foreign Minister Sergey Lavrov has already exchanged several firm handshakes with Kim Jong-un during his visit to Pyongyang on Thursday. Photos show the two engaged in pleasant diplomatic protocol.
In one of the photos, Lavrov has a relaxed, good-natured expression, while Kim apparently took a more formal approach to the photo-op. The Russian diplomat is in the North Korean capital to hold talks with senior officials aimed at supporting intra-Korean negotiations and de-escalation on the Korean Peninsula.
Lavrov and North Korea's leader pledged to do their utmost to secure peace talks to ease the Korean knot. Next time, both may hold talks in Moscow, as Lavrov has invited Kim to pay a visit to Russia.
"We'll be happy if you come visit," Lavrov said, with Kim in turn sending his best wishes to Russian President Vladimir Putin.
During his visit Lavrov also met his North Korean counterpart Ri Yong-ho. The Russian diplomat cautioned that the ultimate goal of Korean denuclearization cannot be reached as long as sanctions against Pyongyang are in place.
Russia is prepared to support any "concrete agreements" that might result from negotiations in the UN, provided they "meet the interests of all parties involved, including the DPRK."
Like this story? Share it with a friend!