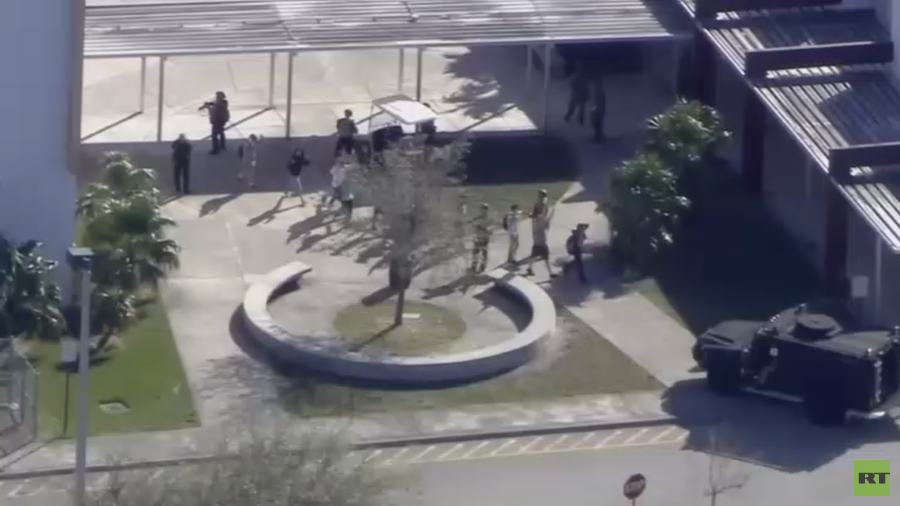 An active shooting incident has unfolded at a high school in Florida, according to the police. Multiple injuries have been reported.
Multiple ambulances, police cars and even armored vehicles have been deployed to the school, according to footage emerging from the scene.
Local TV station, WSVN, has reported at least 20 injured during the shooting, citing local Fire rescue.
The shooter has apparently been detained by the police, according to The Broward County Police Scanner.
"My prayers and condolences to the families of the victims of the terrible Florida shooting. No child, teacher or anyone else should ever feel unsafe in an American school," US President Donald Trump wrote on Twitter.
"Police are working an active shooter scene, and ask that if you are in touch with your student you ask that they remain calm and barricaded until police come to their room, this is for everyone's safety. Do NOT call our 911 or non-emergency number unless it is an emergency," Coral Springs police said on Twitter.
Footage from the scene indicates that police are collecting backpacks from the students escaping the school. The backpacks are piled up in the middle of the road.
One of the school's students, caught up in the shooting, has posted pictures from a classroom where he and his fellow students are hiding behind desks.