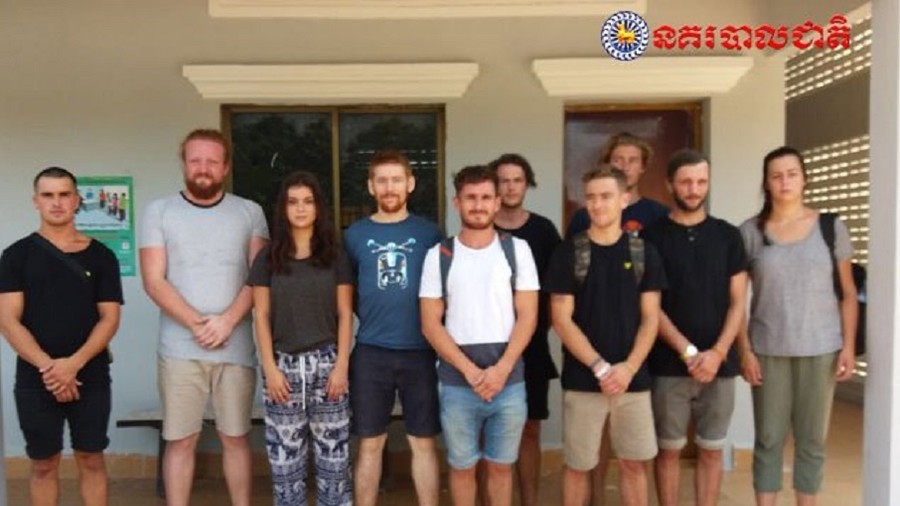 Five British men are among a group of young tourists being held in Cambodia after they were allegedly photgraphed engaging in "pornographic dancing" at a local bar.
WARNING: Contains images some may find disturbing
The group of eight men and two women, ranging in age from 19 to 35, hail from Britain, Canada, The Netherlands, Norway and New Zealand. They were arrested at a Siem Reap villa party on Thursday, according to local authorities.
READ MORE: Jailed in Dubai: The laws you need to know when traveling to the Middle East city
Cambodian police released images of the alleged offense, along with a group picture of those arrested. The ten have been charged by the Office Combating Human Trafficking and Cracking down on Pornographic Material.
One of the arrested, who spoke to the Press Association under the condition of anonymity, said that none of the arrested group is actually among the dancers captured in the photos released by police.
"Honestly, it was really confusing. Everyone was confused. They raided, rounded us up – there was about 80 to 100 people at this party, some of them were tourists," said one of the arrested men. He claims he was barbecuing when about 30 police officers stormed the villa at 4pm local time on Thursday.
READ MORE: Women over 25 to be granted visas to visit Saudi Arabia without male supervision
A statement from Cambodian police said they detained 77 tourists suspected of "pornographic dancing" and, following an investigation, arrested 10 suspects.
The group are now facing up to six months imprisonment while they await trial, and could face a year in jail if convicted. They have been assigned a Cambodian lawyer and are due to appear in court Sunday.
Think your friends would be interested? Share this story!